STAF Linear Guide
Accuracy Category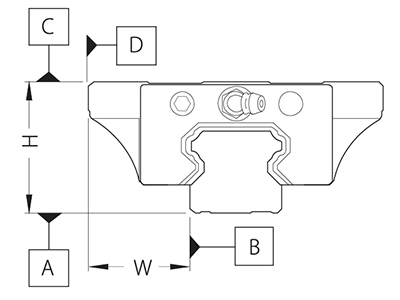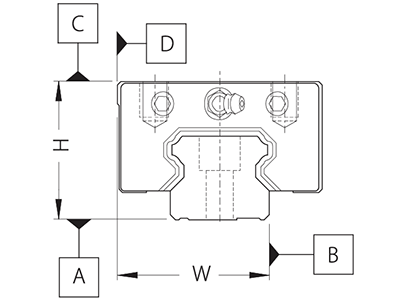 Item
Category
Normal (N)
High (H)
Precision (P)
Super Precision (SP)
Ultra Precision (UP)
Height tolerance (H)
±0.1
±0.04
0
-0.04
0
-0.02
0
-0.01
Width tolerance (W)
±0.1
±0.04
0
-0.04
0
-0.02
0
-0.01
Height difference (△ H)
0.03
0.02
0.01
0.005
0.003
Width difference (△ W)
0.03
0.02
0.01
0.005
0.003
Deviation of plane C vs. plane A
Please refer to △ C in the diagram below for
Deviation of plane D vs. plane B
Please refer to △ D in the diagram below for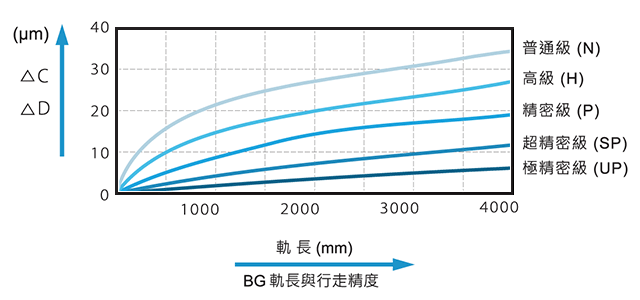 Preload Selection
When rigidity of a linear guide is not strong enough, clearance will exist in between the elements. Preload is the load preliminarily applied to the rolling elements to eliminate a clearance of a linear guide and to increase its rigidity.
Preload
Clearance/Zero Preload
Light Preload
Medium & Heavy Preload
Conditions
Weak impact
2 Rails in pair
Low accuracy
Small resistance
Small load
Cantilever
Single rail
Light load
High accuracy
Strong impact
Strong vibration
Heavy machining
Applications
Welding machine
Chopping machine
Feeding mechanism
Tool change mechanism
Ordinary XY table
Packing machine
NC lathe
EDM
Precise XY table
Ordinary Z-axis
Industrial robot
PCB punching machine
Machine tool
NC lathe and milling machine
Feeding axis of grinder
Tool feeding axis
Increase of preload will eliminate the vibration and the inertia impact in a reciprocating mechanism. However, increase of preload will increase the internal load and increase the assembly difficulty. Therefore, selection of linear guide must bring into account the preload and balance between the impact of vibration and of preload to life.
Slide Type Coding System

A
Block Type
BGX:Without Cage
BGC:With Cage
B
Height Type
H:High Assembly
S:Low Assembly
X:Special Assembly
D
Length & Flange Type
BN:Normal Length
BS:Short Length
BL:Long Length
BE:Extra-Long Length
FN:Flanged Normal Length
FS:Flanged Short Length
FL:Flanged Long Length
FE:Flanged Extra-Long Length
G
Rail Type
L:Counterbore Hole
C:Tapped Hole
I
Precision
N:Normal
H:High
P:Precision
SP:Super Precision
UP:Ultra Precision
J
Preload Type
ZF:Clearance
Z0:No Preload
Z1:Light
Z2:Moderate
Z3:Heavy
F
Dust protection category
Bottom + End Seals
UU:End Seals
SS:End Seals + Top + Bottom Seals
DD:Double Seals
ZZ:With Scrapper
KK:Double Seals + Scrapper
EE:Double Seals + Top Seals + Bottom Seals
FF:End Seals + Top Seals + Bottom Seals + Scrapper
GG:Double Seals + Top Seals + Bottom Seals + Scrapper + LS
F
Self-Lubricate Assembly (LS)
AA:End Seals + Bottom Seals + LS
UA:End Seals + LS
SA:End Seals + Top Seals + Bottom Seals + LS
DA:Double Seals + Bottom Seals + LS
ZA:End Seals + Bottom Seals + Scrapper + LS
KA:Double Seals + Bottom Seals + Scrapper + LS
EA:Double Seals + Top Seals + Bottom Seals + LS
FA:End Seals + Top Seals + Bottom Seals + Scrapper + LS
GA:Double Seals + Top Seals + Bottom Seals + Scrapper + LS